One of the most critical elements of a deck is its railing. There are dozens of choices and sources of inspiration. The railing can be wood or composite, traditional or pre-made. When planning always consider the style and materials used in your home. If you have a deck that sits more than 30 inches above grade, you are required to build a railing.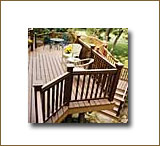 Composite
Manmade decking made from recycled wood fiber and plastic polymers. Railing-system units coordinate with decking and usually include balusters, posts, post collars, and decorative post caps. The integral-colored products require less maintenance than wood.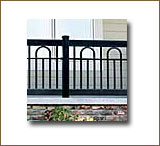 Vinyl
Sturdy material comes in gray, tan, white, and black, which mimics wrought iron. It won't rot or rust and needs no painting or sealing, but does require extra structural support: Manufacturers recommend that the vinyl post sleeves slip over metal posts.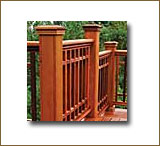 Prefabricated Wood
Available in several styles and typically purchased with top railings, usually in cedar, mahogany, or a double-primed finish. Standard 36-in.-tall sections are available in 6- and 8-ft. lengths. They fit between posts and are cut to size on-site.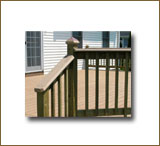 Traditional PT Wood Assembly
One of the most affordable railing assembly out of Pressure Treated dimensional lumber. Many styles could be created with square or colonial balusters with matching posts. Staining is recommended to prolong the life of the product.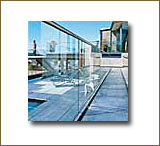 Glass
Tempered-glass preserves views and can function as a windbreak. Building codes may call for slender openings around panels to reduce wind pressure. Sections can be frosted or etched for privacy or to screen unattractive vistas. Panels range from 1/4 to 1/2 in. thick and require a rigid framework.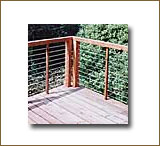 Aluminum/Steel
Rails, posts and balusters are made of powder-coated aluminum and come in three styles: Architectural, resembling a curvilinear hand-forged iron bar; Classic, a cylindrical, pipe-shaped baluster (available in several colors); and Colonial, resembling turned wood.

Tensioned stainless steel cable (usually 1/8 in. thick, but can be 3/16 or 1/16 in. in custom systems) is used in place of balusters and runs through pre-drilled holes in wood or steel posts and maybe drawn tight with turnbuckles or other threaded tensioning devices. Steel posts and frames come in a variety of shapes and styles.